Personal injury compensation can cover a number of different areas, from workers' compensation and motor vehicle accidents to medical negligence and public liability claims.
Compensation Law Services Parramatta
Claims for compensation in these areas are subject to different legislation and a number of statutory schemes. At Compensation Lawyers Parramatta, we can simplify this sometimes complex area of the law and make sure an injured person is appropriately compensated for injuries they've suffered as a result of someone else's negligence.
Workers Compensation Lawyers Parramatta
If your employment results in physical or psychological injury, or you contract a disease through work, workers' compensation exists as an insurance scheme to ensure that people are not left out of pocket in meeting the costs of recovery.
Specialist legal advice is always advised in these claims as they can be complex and stressful, particularly at a time when you are trying to get better.
Compensation under workers' compensations schemes can take the form of weekly payments for a period of time, reflecting lost wages, as well as payments for reasonable medical and treatment expenses.
A lump sum compensation payment may be awarded where the work injury resulted in permanent impairment or inability to use injured body parts.
Your dependants – spouse and children – may also be able to claim weekly payments or a lump sum where a person is killed while at work.
Legal guidance is important in workers compensation because insurance companies responsible for funding the scheme will likely challenge a person's claim to compensation on any number of grounds. This can be countered with the right evidence and a strong presentation of the claim, which we specialise in at Compensation Lawyers Parramatta.
We will also guide you through the process when an insurer denies a workers compensation claim and arbitration or other forms of dispute resolution are required.
Medical Negligence Lawyers Parramatta
When it comes to medical procedures, there are many possible examples of negligence which result in injury. This category of negligence could encompass incompetent treatment during or after an operation; a failure to properly warn a person about the risks of a procedure; incompetent prescription and monitoring of medication; misdiagnosis or delay in the diagnosis of your condition; and other examples.
If the provider of the medical service fails in their duty to administer treatment with a reasonable standard of professional care and skill, a patient may have a valid claim for compensation.
For a successful claim, it must be proven that the treatment caused an injury that would not have occurred if it had been provided to the appropriate standard.
Compensation for medical negligence may cover pain and suffering; past and future medical expenses; loss of wages and future loss of earning capacity; and past and future care expenses such as domestic care.
Public Liability Lawyers Parramatta
This form of compensation covers those who are injured in a public place or private building as the result of the negligence or a deliberate act of another party.
Trips and falls in public places are the most common example of a public liability claim but sporting injuries, physical and sexual assaults, and even food poisoning from a restaurant are other examples of possible public liability claims.
In order to make this kind of claim, it must be established that the owner or operator of the venue where the accident occurred owner the claimant a duty of care, that they breached that duty, and that the breach was the cause of the injury and loss for which the claim is being made.
A person making this claim may be entitled to compensation for pain and suffering; past and future medical expenses (including travel); loss of wages and future loss of earning capacity; past and future care expenses such as domestic care.
Public liability claims must be commenced within three (3) years from the date of the incident.
Vehicle Accident Claim Lawyers Parramatta
A compensation claim under compulsory third party (CTP) insurance schemes in Australia can be made by drivers, passengers, pedestrians and cyclists who are involved in a road accident. The term vehicle can also encompass motorcycles, trucks, forklifts, trailers and farm equipment.
Such claims can be made whether or not you were blameless in the accident (unless a serious offence was committed), and even where the vehicle at fault was unidentified or unregistered.
Motor vehicle accident claims can be made for weekly payments to cover loss of income; medical expenses; other expenses such as expenses for personal care, transportation or domestic duties.
A wide range of injuries can be the basis of the claim, including spinal, fractures, burns, soft tissue and psychological injury.
A separate common law damages claim may also be possible, entitling the injured person to a lump sum where their injury is more than minor and they were not at fault in the accident.
Contact Compensation Lawyers Parramatta if you need more information on motor vehicle accident claims.
TPD Lawyers Parramatta
Total and Permanent Disablement (TPD) insurance policies may be held as part of a person's superannuation fund, or separately, and could entitle a loved one to make a death benefit claim if a loved one is killed in an accident.
TDP policies have detailed eligibility criteria in order to make a claim on the policy. An example is an assessment of whether the injured person is permanently unfit for their usual employment or any other employment they may be qualified for.
The claim process under a TPD policy can be lengthy and complex. At Compensation Lawyers Parramatta, we will do the hard work for you in making a TPD claim, including representing you if the claim is rejected by the insurer.
Asbestos Lawyers Parramatta
This is a specialist area of compensation law that requires experienced legal advice for those who may have been exposed to dust such as asbestos or silica. If that exposure causes disease such as mesothelioma, asbestosis, lung cancer, larynx cancer, oesophagus cancer or a related disease, the suffered may be entitled to compensation by the Dust Diseases Board of NSW.
There are certain conditions to be met to make this claim but the compensation may constitute weekly payments; pain, suffering and loss of amenities; past and future medical expenses; and loss of wages and future loss of earning capacity.
Loved ones who lose a family member to these dust-related diseases may also be able to claim a death benefit entitling them to lump-sum compensation and weekly payments as a dependant.
Product Liability Lawyers Parramatta
Where an injury results from a product that is faulty, defective, dangerous, or unfit for its intended purpose, product liability law in Australia may provide the grounds for a compensation claim.
Someone injured in these circumstances may be entitled to product liability compensation as well as for medical expenses, loss of earnings, physical and/or psychological injury, and loss of enjoyment of life.
A consumer has three (3) years from the date they are made aware of a loss or defect, or the identity of the manufacturer to make a claim, so act promptly if you believe a defective product has caused your injury.
At Coutts Compensation Lawyers Parramatta, we will listen to your case with understanding and sympathy before providing clear, effective advice on your legal options.
Download your FREE Injury Compensation Guide!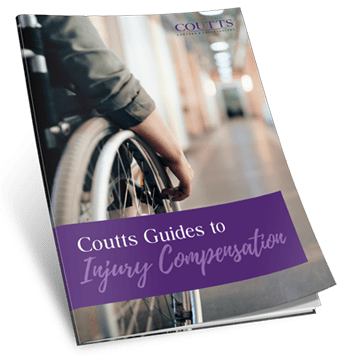 708A, Level 7, 91 Phillip Street, Parramatta NSW 2150